---
EL4, Preliminary Data, February, 2000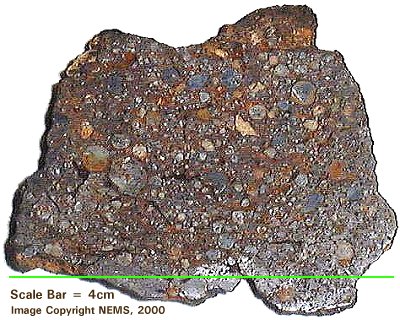 Preliminary Classification by:
Frank Wlotzka, Max-Planck-Institute, Mainz
Comments by R. Kempton:
Enstatites are a personal favorite. There are 16 enstatite chondrites and enstatite achondrites (aubrites) represented within our Reference Collection of 1651 localities. Each enstatite chondrite presents more questions than answers. To my knowledge, this new EL4 has not been named or accepted by the Nomenclature Committee as of this writing. To publish mineralogy data, location, mass, etc., prior to the publishing of Wlotzka's work would be inappropriate. My comments are limited to observations only. This EL4 is highly weathered and friable. It was challenging to bring this 4cm-long slice to the level of preparation that you see in the above image. Chondrule-rich, an abundance of 3-5mm chondrules, and surprisingly, practically no visible metal! Enjoy the photo.