New England Meteoritical Services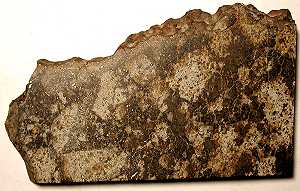 Beeler, Kansas, USA Stone LL6
Other Interesting Sites
This page provides links to some of the numerous astronomy and space related sites on the web. Many of them, particularly the USGS Astronomy Index, will lead you to even more sites. Have fun, enjoy your trip, but don't forget to come back some time!
Meteorites


Antarctic Meteorite Newsletter
This site has not been updated recently, but it contains information and related maps on the thousands of meteorites found in Antarctica. Primary audience is researchers and serious amateurs.
A direct link to the martian meteorite page at the Jet Propulsion Laboratory.
A direct link to the martian meteorite page at the Johnson Space Center.
New Zealand web site of a quarterly magazine devoted to meteorites. Information on current and past issues, subscriptions and feature articles. Good photos, good writing, all assembled by an excellent editor - Joel Schiff, University of Auckland, NZ


David Weir's Meteorite Studies
In every avocation there is always someone who rises to the top, making meaningful contributions to the field. This is David Weir, a well-respected meteorite collector. Throughout this site David shares his collection with passion and an attention to detail that serves all.


Meteorite and Impacts Advisory Committee
Hosted by an advisory committee to the Canadian Space Agency, this is a great site for information and photos relating to meteorites, impact structures and impact events as well as more general information; bilingual, in english et français. Includes a short but very good MPEG animation of an impact event.
Astronomy, Planetary Science & Space Exploration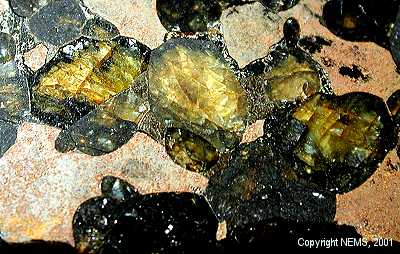 Thiel Mountains, Antarctica. Stony Iron, Pallasite
ESA's homepage with information on programs, facilities, current activities and press releases.
The Project Galileo web site at NASA's Jet Propulsion Laboratory with current photographs and press releases.
The public access area of the Space Telescope web site. The latest photos and press releases from the Hubble program with additional access to "favorites" and a photo archive by category.
A key center for meteoritics and planetary science; home of NASA's Lunar Receiving Lab. Much of the information here is written by and for researchers, but there are good areas reviewing current activities and an excellent section reviewing lunar exploration from the early days of the space age through the present.
JPL's homepage containing information on current events, future missions and a mission by mission review of all of JPL's exploration of the solar system organized by spacecraft.
A NASA web site devoted to Mars. The site is updated daily with information on Mars, its location, weather, orbital relationship to Earth and current relative size of the Earth and Mars viewed from each other. Includes QuickTime movies of the relative positions of Earth and Mars in their orbits.
Homepage of the National Aeronautics and Space Administration with information about NASA and links to their web sites and research centers.
A primary space activist organization dedicated to promoting humans living and working in space. In addition to information about the organization and its activities, the site includes an online version of their bimonthly magazine, Ad Astra(To the Stars).
Maintained by NASA for the RKA, the site has information on Russian launch vehicles and facilities, current projects and the Mir space station. Many photos and MPEG and VR movies.


SEDS at the University of Arizona
One of the best, if not the best, astronomy site on the web. Maintained by Students for the Exploration and Development of Space, this page has links to their famous Nine Planets site, online NGC and Messier catalogs, general astronomy, human and robotic space exploration, and much more.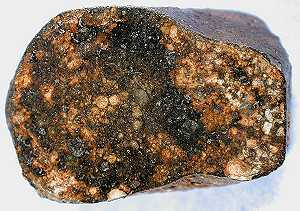 The chondrule-rich interior of Sayh al Uhaymir 001, Oman


Smithsonian Astrophysical Observatory
A research site maintained by the Harvard-Smithsonian Center for Astrophysics. Includes information for observers on how to report new comets and asteroids.
Online journal of the American Astrophysical Society. The latest information on astrophysics written by and for researchers.
The grassroots organization established by Carl Sagan to promote the exploration of our solar system and the search for extraterrestrial life. The mission of the society has expanded and it is now actively participating in the development of Mars explorers and other research activities.
NASA's current events web site covering the latest news from all the research centers. During shuttle missions the site provides a RealAudio link to communications between Houston and the shuttle.
An index of web sites maintained by the U.S. Geological Survey providing links to dozens of astronomy related university, observatory and government project sites.
An excellent site maintained by Calvin J. Hamilton at Los Alamos National Laboratory with detailed information about all aspects of our solar system. This site rivals Nine Planets for its information and coverage.
---

New England Meteoritical Services