| | | |
| --- | --- | --- |
| | | |
| | | |
| | | |
| Cape Girardeau, Cape Girardeau County, Missouri, 2.10 grams | | Selma, Alabama, H4 chondrite, 8.0 grams |
| Observed to fall on August 14, 1846. A single stone of around 11kg was heard and seen to fall 7.5 miles south of Cape Girardeau, Missouri. This is an H6 chondrite, chondrules, light oxidation, 17mm x 10mm x 8mm, $192.00 | | A single 140kg stone meteorite was was found in 1905 in Dallas County. Offered is 8.0 grams, 24mm x 21mm x 5mm, $106.00 |
| | | |
| | | |
| | | |
| Chelyabinsk, Siberia, Russia, LL5 chondrite, 2.3 gram fusion crusted endpiece. | | Huckitta, Australia, Pallasite, 7.90 grams |
| Fell February 15, 2013. Offered is a 2.3 gram, fusion crusted endpiece with spectacular brecciation. This is an impact-melt meteorite with multiple lithologies. 24mm x 18mm x 3mm, $96.00 | | Stony-Iron, pallasite, found 1924. Huckitta is a main-group pallasite of considerable terrestrial age. 7.90 grams, 14mm x 15mm x 12mm, $148.00 |
| | | |
| | | |
| | | |
| Cavour, South Dakota, H6 chondrite, 9.85 grams. | | Lake Murray, Oklahoma, IIAB, 22.2 grams |
| Seven stones totalling around 20Kg were found in Beadle County, South Dakota in 1943. Cavour is a brecciated stone meteorite. 33mm x 21mm x 12mm, $95.00 | | Found 1933 in a cretaceous sediment bed. very high terrestrial age, 37mm x 26mm x 6mm, $310.00 |
| | | |
| | | |
| | | | | |
| --- | --- | --- | --- | --- |
| | | | | |
| | | | | |
| Holbrook, Arizona, L6 chondrite. | | Garraf, Spain, L6 chondrite | | Salaices, Mexico, H4 chondrite. |
| Fell July 19, 1912, Navajo County, Arizona. Offered is a fusion crusted (60%) specimen . 4 grams, 12mm x 12mm x 13mm, $100.00 . | | Found 1905 in Barcelona, Spain. Offered is a 1.84 gram specimen, 18mm x 16mm x 3mm, $55.00 | | Found in 1971 in Chihuahua, Mexico. Offered is a 3.66 gram specimen, polished face, 13mm x 12mm x 11mm, $ 40.00 . |
| | | | | |
| | | | | |
| | | | | |
| West Forrest, Australia, H5 chondrite. | | Indarch, Azerbaijan, EH4 chondrite. | | Cereseto, Italy, H5 chondrite. |
| Only 170 grams found. in 1971, Nullarbor Plain, Australia. Offered is a polished slice, 6.3 grams, 46mm x 17mm x 3mm, $90.00 | | Rarely offered, rare classification. Fell April 07, 1891. Offered is 1.9 grams, 17mm x 12mm x 3mm, $190.00 . | | Cereseto is a brecciated chondrite. Fell, Piemonte, Italy on July 17, 1840. Offered is .4.20 grams, 19mm x 11mm x 10mm, $264.00 |
| | | | | |
| | | | | |
| | | | | |
| Warden, Australia, H5 chondrite. | | Kelly, Colorado, LL4 chondrite. | | Hamilton, Queensland, Australia,L6 |
| Found in 1989 in Western Australia, Offered is 10.8 grams, 37mm x 31mm x 2mm, $118.00.. | | Found in 1937, reported by H. Nininger. Most of this meteorite is held in university collections and rarely available to collectors. A nice LL4 stone meteorite, 8.80 grams, 38mm 25mm x 3mm, $140.00 | | Found 1966 mostly buried by mud in the flood plain of the Balonne River. 2.8 grams, 20mm x 10mm x 6mm, $65.00 |
| | | | | |
| | | | | |
| | | | | |
| Zavid, Bosnia, L6 chondrite | | Kharabali, Russia, H5 chondrite | | Estherville, Iowa, Mesosiderite |
| Fell August 01, 1897 in Zvornik, Bosnia. A nice brecciated chondrite. 3.74 grams, 28mm x 17mm x 3mm, $147.00 | | Found 2001, in in the Kharabalinsky district, Astrakhan region, Russia. It was known to local people as a conspicuous strange magnetic stone for at least 10 years. 3.58 grams, 20mm x 14mm x 6mm, $90.00 | | Fell May 10, 1879ound 1966 Thisi is a pyroxene, olivine, plagioclase fragment of the famous Estherville meteorite. 1.48 grams, 17mm x 15mm x 6mm, $60.00 |
| | | | | |
| | | | | |
| | | | | |
| Shelburne, Grey County, Ontario, L5 chondrite. | | Cosina, Mexico, H5 chondrite | | Norton County, Kansas, Aubrite |
| Fell August 13, 1904. A brecciated , veined chondrite with melt pockets. 3.92 grams, 20mm x 12mm x 5mm, $110.00 | | Fell January, 1844, in Dolores Hidalgo, Guanajuato, Mexico. Only 1200 grams was found.3.22 grams, 17mm x 10mm x 6mm, $120.00. Rarely available. | | Fell February 18, 1948 in Norton County, Kansas. Aubrites are rare. They are achodrites and mostly made up of the mineral enstatite - a pyroxene that contains only magnesium, silicon and oxygen. 4.20 grams, 19mm x 12mm x 15mm, $138.00 |
| | | | | |
| | | | | |
Meteorite thin sections


Meteorite thin-sections are carefully prepared glass slides suitable for mineralogical and petrology studies when viewed through a microscope. They are thin slices of meteorites that have been carefully ground down and polished so thinly that light can pass through the meteorite's mineral structures.

In transmitted light, thin sections reveal the texture and crystal shape of minerals and other identifying meteoritical characteristics while through polarized light, the mineralogy is awash in color allowing for more complete mineral identification. All slides are 2" x 1" with large surface areas for study.

Allende, Mexico, CV3.

CV3 chondrite, Fell 1969. One of the best for chondrule and CAI studies, $110.00
Saratov, Russia, L4 chondrite

Fell 1918. Excellent for chondrule photography. $110.00
Richfield, Kansas, LL3

Stone chondrite, LL3. Chondrule-rich. $90.00
Chelyabinsk, Siberia, Russia, LL5

Mid February, 2013 saw an amazing breakup of a large bolide over Siberia, Russia. A very fresh meteorite for study. $110.00
Abee, Canada, EH4

Abee is an impact-melt enstatite chondrite. Rare classification, rarely seen in thin section. $110.00
Huckitta, Australia, Pallasite

The olivine in Huckitta is some of the most vivid to be seen in meteorite thin sections,.$120.00
Bilanga, Burkina Faso, Diogenite

Fell in 1999, a brecciated, achondrite diogenite. Rarely available in thin section, $110.00
Weston, Connecticut, H4 chondrite.

Historic Fall, 1807, nice slide for study, seldom available. $180.00
Moorabie, Australia, L3.8 chondrite

Found 1965, chondrules, inclusions, excellent detail. $105.00
Cangas de Onis, Spain, H5 chondrite

Fell December 6, 1866. Very nice slide, nice detail, $95.00
Sikhote-Alin, Russia, coarsest octahedrite.
One of the great meteorites of our time, several ton of this iron meteorite fell over the Sikhote-Alin mountains on February 12, 1947
Classified as a IIAB iron meteorite, there are two types - large, fragmented forms, and regmaglypted specimens. Spectacular for display. Offered are both types.
| | | |
| --- | --- | --- |
| | | |
| Sikhote-Alin, 127.4 grams, a perfect example of the violent shearing and tearing that occurs during atmospheric passage. 78mm x 74mm x 22mm, SOLD | | Sikhote-Alin, 223 grams, fragmental form, 57mm x 48mm x 34mm, $566.00 |
| | | |
| | | |
| Sikhote-Alin, 62 grams regmaglypted, 46mm x 36mm x 18mm, $186.00 | | Sikhote-Alin, 438 grams, a superb large display specimen. 75mm x 43mm x 40mm, $860.00 |
| | | |
| | | |
| Sikhote-Alin, 55 grams regmaglypted, 45mm x 30mm x 15mm, $180.00 | | Sikhote-Alin, 225 grams, fragmented durig atmospheric entry, 80mm x 35mm x 20mm, $430.00. This has a nice torn and twisted shape from its violent passage through our atmosphere.. |
One of the most visually interesting meteorites for display.
Estherville iron nodules
From the Estherville, Iowa, mesosiderite Fall of May 10th 1879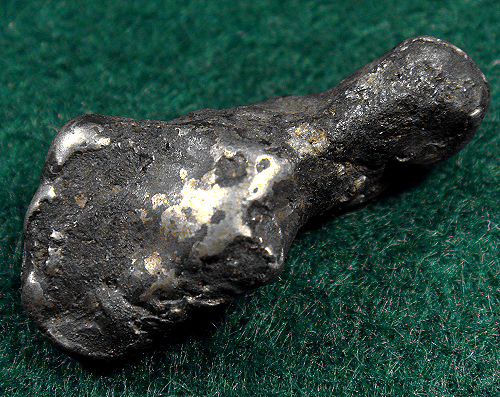 Estherville iron nodule, fusion crusted, 11 grams. Collection specimen, not for sale..
Estherville iron nodule, 3.62 grams, 15mm x 11mm x 9mm, oriented, melted iron, partial fusion crust, $360.00
The Estherville meteorite shower of May 10, 1879 rained over 350kg of a rare classification of meteorite called a mesosiderite over Emmet County Iowa. Mesosiderites are an odd type of differentiated meteorite, meaning that somehow the Fe/Ni mix from the asteroidal core melted and combined with molten silicates (basalt) near the surface. Not only did the shower produce many larger specimens, it produced many smaller "iron nodules" consisting of an admixture of both the Ni/Fe and basalt.
Harvey Nininger published on these remarkable nodules singling out the oriented ones (the Published Papers of Harvey Harlow Nininger, June 1971)
He examined over 700 specimens, studiying the aerodynamic abalation from orientation.
Offered are three samples of these nodules, all oriented, all with exposed Ni/Fe and the stony basaltic matrix, all with fragmented sections of both primary and secondary fusion crust. The serious study of meteoritics was beginning at this time and Nininger was at the forefront. Aside from their unique nature, these are historic meteorite samples from when the "eye" of science began to take notice.
For serious study, teaching, and private collections.
Estherville iron nodule, 6.0 grams, 21mm x 14mm x 8mm, melted iron, primary and secondary fusion crust, $420.00
Estherville iron nodule, 7.75 grams,
22mm x 13mm x 12mm, melted iron, primary and secondary fusion crust, $535.00